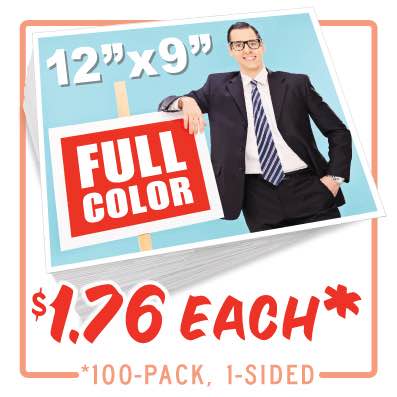 100-Pack custom full color 12"x9" Signs - Single Sided. Printed on 4mm Corrugated Plastic.
This item has a minimum order of 100 signs. You'll get an error in the cart if you try to add it with less than 100 pcs.
An upload will be required to add this item to the cart.
100-Pack pricing is based on the same identical art for all sign panels
Your upload could take minutes or hours depending on your file size and your available bandwidth.
We print the file as it is provided, therefore we are not responsible for flaws in your artwork.
The file type should be a PDF, AI or EPS and should be saved at full size.
For Adobe Illustrator files, please outline your text or embed any fonts when saving your files.
At full size, bitmapped images should not be over 120ppi or under 50ppi.
**Need to design online? Need Less than 100 signs? Both options are available
here
.
---