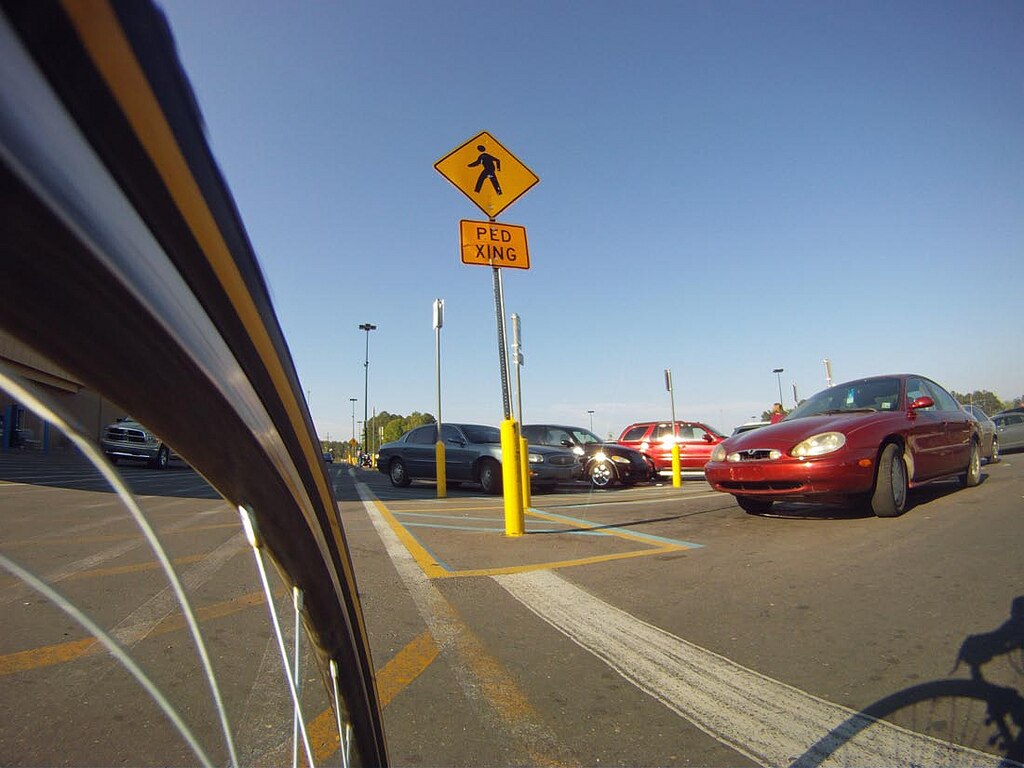 3 Big Mistakes with Safety and Parking Signs
Designing a parking lot that is safe for motorists, pedestrians and bicyclists is no easy task. While local and state governments provide rules and regulations that must be adhered to, these regulations do not always guarantee safety. Proper usage of safety and parking signs can help ease congestion in the parking lot area and keep pedestrians and bicyclists safe at the same time. Parking lot designs have improved greatly over the last few decades and provide properly sized parking spaces, highly visible handicap areas and safety lights. While these improvements have helped make parking lots safer, there are still several other big mistakes that are commonly made when designing parking lots. Below is a list of three common parking lot mistakes that can easily be fixed with proper placement of parking and safety signs.
1. Safe Pedestrian and Bicyclist Walkways
Parking lots are typically designed with motorists in mind, but it is important that special consideration is given to pedestrians and bicyclists. This will help to create greater safety for everyone using the parking lot. Pedestrian and bicycle walkways should be clearly marked in front of the store area with bright yellow pedestrian walkway signs. This will help employees and customers know exactly where they can safely cross the parking lot. Many businesses are successfully using portable Stop signs at these walkways for added protection. No parking signs should also be placed in front of the store in order to keep these pedestrian and bicyclist's walkways clear from obstructions. A clearly marked bicycle parking area should be designated near the front of the store.
2. Use of Roadway Signs
It may seem odd to place signs that are typically seen on the roadway in a parking lot, but these safety signs can help direct motorists. Speed Limit signs are becoming more commonly seen in parking lots and can prevent people from driving too fast throughout the parking lot area. These special Speed Limit signs range from 5 to 20 miles per hour and are dependent on the specific type of parking lot. Many parking lots use arrows painted onto the parking lot surface to regulate traffic within the lot area, but this type of signage is often hard to see and causes confusion. However, One Way signs and Do Not Enter signs are easy to see and can help regulate traffic and minimize congestion within the parking lot. Entrance and Exit signs also help direct traffic as motorists travel into and out of the parking lot.
3. Proper Notice of Towing
There is almost always times when a car will simply need to be removed from the parking lot because it is parked where it should not be or is left in the parking lot for an extended period of time. When this happens, it is often necessary to have the vehicle towed. It is important to understand that businesses owners cannot just remove any car in the parking lot they want because there is a set of regulations that must be followed or the businesses owner takes a chance of paying for the towing fees. Each locality and state has its own set of rules pertaining to towing vehicles, but typically business owners are obligated to provide motorist with proper notice that their vehicle may be towed. A Notice of Towing sign meets these requirements and should be placed at each entrance to the parking lot, as well as, within the parking lot area. Keeping the parking lot clear of these unwanted vehicles helps to provide ample parking for employees and customers and minimize parking lot congestion.